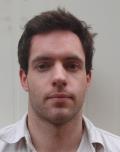 Mr Simon Jones

PhD Student
I grew up on the "Jurassic Coast" in southern England and developed a love for geology from an early age. I completed my undergraduate degree at Imperial College, London, in 2007. During my course I worked in the oil industry and on volcanic massive sulphide deposits in the Oman ophiolite. I was fascinated by how metallic mineral deposits form and I decided to pursue a career in mineral exploration.
Since graduating I have been working for First Quantum Minerals as an Exploration Geologist. I've been fortunate to have worked in several different countries, on a variety of different deposit styles, using a range of exploration techniques. I have always been intrigued by sediment-hosted copper deposits and after several stints in and around the Central African Copperbelt I decided to do a PhD project on a deposit of this type.
My research concerns the fluid flow that formed the 1.1 Ga White Pine copper deposit in Michigan and is supervised by Jonathan Cloutier, Tim Raub and Tony Prave. It is funded by my employer who plan on getting me back in several years' time with a much improved understanding of these mineral deposits!
Data could not be retrieved from PURE at this time. (research-outputs/persons)