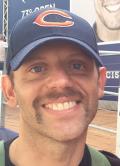 Dr Tommaso Di Rocco

Research Officer
I come from Italy where I've got a PhD in geochemistry at Sapienza University of Rome. Since then my research focused primarily on the petrology and geochemistry of meteorites and terrestrial igneous rocks. At the University of St Andrews I manage the stable isotope laboratory, which is equipped with two Thermo MAT 253 gas mass spectrometers for the measurement of sulfur, hydrogen, nitrogen and carbon isotopes.
Recent publications
0  (of 0 published available) for tdr4. (source: University of St Andrews PURE)
Please click title of any item for full details.